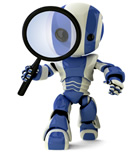 You did it a few weeks ago for Meta Titles, now it's time to do the Meta Descriptions!
1 Bookmark in your calendar to check one Meta Description a day.
2 Open the admin and click on Manage Pages.
3 For each page click on edit, then the SEO button on the editor toolbar.
4 The Description MUST be unique and should be a good description of the page with good use of keywords. Google only reads the first 150 characters (there is a count down next to the Description field).
The Meta Description is not as important as the Meta Title.
But the cool thing about the Meta Description is how and where it appears.
When you do a Google search the links come up on the page with a summary below them. That summary is usually a random part of the page Google has selected. Like many people, I always look at these summaries to see how relevant the link actually is to my search. And I rule out many of the links because the summary just doesn't look enticing or on target. Here is where the Meta Description comes into play.
If Google likes your Meta Description, it will use it to display as the summary.

There is the opportunity for you to write these descriptions specifically for each page, like a mini advert.
For example "Apply online for our obligation free booklet providing discounts for Christchurch activities including swimming with dolphins, and much more."