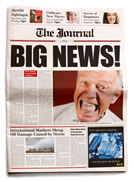 People love stories, and customers and suppliers are probably more interested in you than you think. After all business is largely about relationships. So why not write a news item for the website, Google will love the new content too.
1 Think of a positive story about your business or a customer you have dealt with. It doesn't have to be long, and should be written just as if you were speaking to someone.
2 Create a News page on your website through the admin, and write your short news story there.
3 Be sure to links to "Our News This Month" from your home page. No point writing an article if noone can find it! Only put the date if you are disciplined and bookmark in your calendar to write a new item regularly. (Hint, try writing several articles at one time, so you have them ready for when it is time to change).