If you are new to creating links in your Surefire Design website editor, you probably need to start by reading 'Learn to create links step by step', or check out the online help.
If you are confident with copying the URL, selecting the link text, clicking on the chain link button, and pasting the URL into the URL field, then the following extra bells and whistles might be for you!
One really useful thing you can do with links is make them open in a pop up window.
This is especially important when the link is to someone elses website.
The reason is you don't want visitors clicking on a link to someone elses site, that replaces your site when the new site loads.
With the new site opening in a pop up window, your site will still be open in a window behind it!
There isn't much to it. You can make this setting at the time you create the link. Or if the link already exists, right click on it and select Edit Link.
This window should look familiar. Click on the Target tab.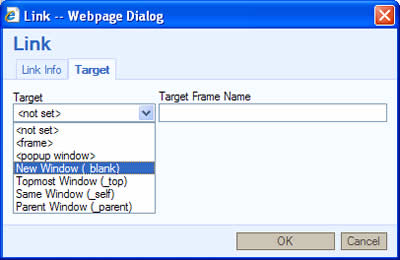 Then from the drop down list, select the one that says New Window (_blank), press Ok and you are done!
NOTE You can do the same thing if you have an image that is a link. Just set the target to New Window (_blank).
NOTE Another handy link tip, if you have a link you have messed up or want to remove. Just right click on the link in the editor and select Remove Link. Simple!