The right image can really support your message. But where can you get them from?
Your own photography may be appropriate. Especially if you are creating galleries in your website. Just remember to take note of shadows, light, and composition. In this digital era it doesn't cost anything more to take 10 photos and choose the best one.
When it comes to other images on your website, a professional touch can really help. This is where stock photography can come in.
Stock sites such as iStockphoto http://www.istockphoto.com/ or fotolia http://www.fotolia.com have a huge range of styles and topics covered. Images can work out to cost mere dollars. Note it pays to check how many $ = a credit or a point before you accidentally buy something expensive! Also make sure you are buying images at an appropriate image pixel size and file size for web. You will find they are cheaper! Online images only need to be 72 dpi unlike print which requires 300 dpi.
Think about your website. Will clear cut images stand out best? Do you want your images all to be rectangular? Make sure your images make sense together as a group and match stylistically. Little details such as making sure images are all the same width lend design edge and credibility to your website.
Think about good search words to find that perfect image. "Man Suit Orange Fish"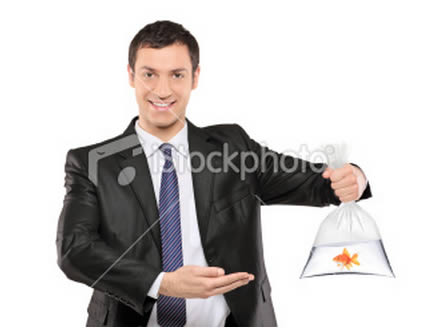 One last tip… step away from the clipart!