If you would like a Fav Icon on your Surefire Design website, send an email to favicon@surefire.co.nz with your website address in the subject heading.

We will send you an invoice for $80+gst and once this is paid we will send you a design of your logo for approval.

Any changes to this design will be $40+gst each time. These icons are quite tiny and deceptively hard to create!
What is a Fav Icon? I hear you ask.
Fav icons are cute little images you have probably seen but not really noticed.
They are a VERY small image that we can upload to your website, but they don't display on the site. When visitors come along it downloads to their browser and displays in different places.
It depends on the browser and version your visitor uses as to where the icon displays. Traditionally it is just displayed in the address bar before your web address http://www. With the advancement in browsers they are being used in more places.
In Internet Explorer when you open a new tab, your most used sites are displayed…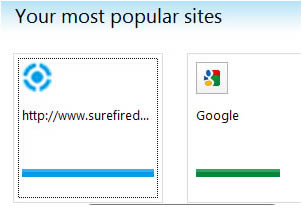 Shown here in the traditional Address Bar, and also in the Favourites Tab…


In Chrome it displays on the web page tab…