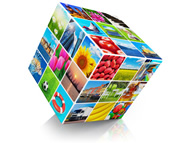 There is a world of searching going on, and not everyone knows about it.
You could be missing out on a slice of image searching action. All those images on your website and in your eCatalogue have the potential to add to your onsite search engine optimisation. I'm surprised how often I meet perfectly computer savvy people who aren't aware of Google Image Search.
Next time you do a search, either start by clicking on Images on the top menu bar in Google, or even click on images after you have made your initial search. I find myself lazily clicking on Images to see if I can identify my desired item, service, company, attraction. Visually searching can sometimes be easier than reading text search results.
If I was starting the search for a new product, say a car trailer, I would typically search by images. This is the initial product investigation phase, while I'm still developing an idea of what might work for me and getting a feel for what is out there. I might see something out of the box. I might decide the industry has nothing inventive to offer. It can be very hit and miss.
While lending itself to product searching, it can also be a very quick way to find a specific company based on their brand. Searching 'BP New Zealand' brings up immediately recognisable images to their site, articles, even Greenpeace image links!
So how do you harness the power of images on your own website? There is a little field called the Alt Text. In the editor, right click on the image, select image properties. The Alt Text field should contain your key search phrases, and possibly describe the image. This is the information Google uses to identify the image and provide it in searches! Nice and simple.