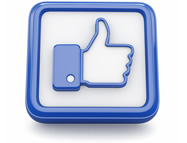 Facebook isn't going away anytime fast. And what we call 'more mature users' are joining at the fastest rate. So with this normalising of Facebook amongst your target customer base, the question needs to be asked – is Facebook for your business? Take this test.
i) Social media is about online communities. People like to talk to each other about things they have in common and are interested in. Appropriate clients of ours that pop to mind would be doing things like fixing high end brand scooters, fashion designers for 'mother of the bride', road and mountain bikes sales and service. Are your clients likely to form an online community and chat on your Facebook page?
ii) Facebook can be a natural place for testimonials from clients thankful for the work you have done for them. An example might be a wedding planner or wedding photographer; clients might naturally come and add a comment and some photos. An indication might be you already receive a lot of testimonials naturally from clients. Are your clients likely to provide feedback and testimonials on your Facebook page?
iii) You will struggle to get Facebook friends if your service or product is something clients would rather keep private. This largely covers all medical services. I think my dentist is on a hard road to build friends on Facebook. I'm unlikely to discuss this with my friends in normal life, never mind have it posted on my Facebook wall and friends feeds when I 'friend' or 'like' or comment on their Facebook page! Is your service something your clients would be likely or willing to refer and discuss in normal life?
iv) Facebook is one of many opportunities to put together your company profile for display in the digital world. You only have so many hours in the day, and other online options may make more sense as a priority. Some of these options are Your Website, LinkedIn profile, Google Places page, Finda directory listing, Google+ business page etc. Have you completed your website onsite optimisation and are you consistently creating quality content for your site?
v) Facebook for businesses is only appropriate if you can generate content on a consistent basis. You can't set it up and just leave it. This content needs to be targeted correctly. There is good evidence people don't respond well on social media to direct hard core marketing. You must respond to contributors. Do you have the skills and time in your business to create appropriate content in sufficient volume?
If you answered Yes to all or some of these, Facebook could be for your business. Make sure you re-read point v).
If all you heard was a resounding No, you have your answer! The one thing that is certain in business is that things change. So while Facebook may or may not be for you right now, we will keep you informed as things change on the internet and social media landscape.