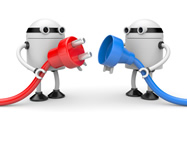 Everyone knows relevant links into your website are like gold dust. Not to the same level, but links within your site and out of your site can also contribute.
Google doesn't want to just see links of any quality. It really likes it when sites with similar or associated topics are linked together, and when the link text also supports the search phrases of the site. So these are really good quality hand crafted links. The bonus is this is really good content for Google and it is real content that is useful to your site visitors.
Here is a bit of a template on how to tackle creating your links page.
1) Make a list of links. It is best to select sites that are on a related topic to your website. These shouldn't be general generic links like 'www.google.com'. Rather they should be industry body sites, Government sites, supplier sites (if there is no conflict of interest), clubs, related industry sites. For instance if I'm on a builders site, I might want to see links to some recommended architects or EQC!
2) Use a simple formatting system to keep the page looking consistent. To get the page indexed by Google you do need to get more than 200 words on the page ideally, so a short description will really help. It also makes more sense to visitors, rather than just a list of links off somewhere. Something along these lines-
* Text heading with your search phrase in it. Make this text a link to the page. This is the bit that helps Google recognise your search phrases. Learn how to do that here – http://www.surefiredesign.co.nz/help/video/creating-a-simple-link.php make sure they open in a pop up window – http://www.surefiredesign.co.nz/help/video/creating-a-pop-up-link.php You don't want links opening in the same window as your website. Your visitors will simply browse away from your site. With a popup link, your site stays in the background for later.
* Take a few lines of text from the page you are linking to. Paste this in or use it for inspiration. Learn about pasting as plain text here – http://www.surefiredesign.co.nz/help/video/paste-as-plain-text.php
*Put in the actual link so people can see where it will go.
* Repeat!
Here is an example to follow-
Nice Heading For the Page Using Your Search Phrase
Here are some links we hope are useful for your search for items related to your search phrase.
NZ Government Employment Services Your Search Phrase
Find out about assistance available when hiring a new employee, or offering work experience – from apprenticeships to on-the-job training. Find out how Work and Income works with businesses to help you fill vacancies. Find out what Modern Apprenticeships are and whether they are right for your workplace. http://www.business.govt.nz/support-and-advice/employment-services
NZ Government Employment Services Your Search Phrase
Find out about assistance available when hiring a new employee, or offering work experience – from apprenticeships to on-the-job training. Find out how Work and Income works with businesses to help you fill vacancies. Find out what Modern Apprenticeships are and whether they are right for your workplace. http://www.business.govt.nz/support-and-advice/employment-services