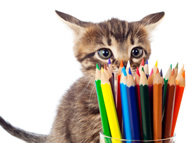 Maybe now it is time to create some new solid content. If you are stuck, all is not lost. Here is a process to help demystify the task. Either way don't wait, after all content is king.
So how do we begin to create content from a blank page? This is my simple approach!
Absolutely first of all, have in mind your key 3-4 key search phrases that you want to use to optimise your overall site. If you have these in mind or written down, they will naturally appear in your content and this is what Google wants to see.
1 Plan the content you are going to make. I find it difficult to pull content from thin air. But if I plan what I'm going to say on 4-5 pages, I know what I need to generate.
2 Ask yourself a question. Let's say you have planned pages called About Us and Services. Start by asking yourself a question as if a client has rung you on the phone. Questions such as 'how do you guys operate and what territory do your team cover?', 'What services do you provide and what size businesses do you generally work with?'.
3 Once you have asked these normal everyday questions, simply answer them! You could answer these naturally if someone were to phone you, so write that answer down. Turn the questions into sub headings – 'Territory we cover'. Writing in your own personal manner can be really appropriate for content on websites for small and medium size businesses. This depends on a little on your industry. Mostly we don't all have to write content trying to sound like some high flying marketing corporation. At the end of the day, it's about good, useful information for your clients. Here are some additional tips to keep in mind while creating content.
*  Write for the customer personally
*  Keep paragraphs short, 3-4 lines
*  Use Sub Headings
*  Write short sentences
*  Keep your keywords and search phrases in mind
*  Add little bits of content regularly over time and Google will love you!