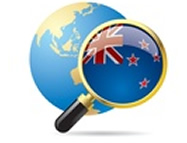 This could be interesting for you. You may have heard by now, the familiar .co.nz ending to our New Zealand domain names, now has a companion.
The powers that be have released a new domain extension (the bit on the end). They release new domain extensions every now and then. The new .nz is shorter than .co.nz to type and remember. We still need to see if everyone with an active .co.nz domain will want to duplicate it with the .nz version too.
It isn't just convenience to consider. If you don't purchase the .nz domain for your business, someone else will be able to. This could lead to confusion and lost business as the extensions are very similar. People will quickly become familiar with remembering .nz and could easily go to a competitors website.
To ensure you have first rights to the .nz domain you are after, you should already own the equivalent .co.nz domain.
Something to keep in mind!