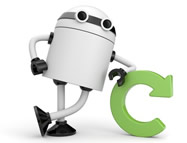 Ok it may not actually be Spring, far from it! But now is always a great time to Spring Clean your website regardless of the weather.
There are lots of little things you can do to blow away the cobwebs. Where to start can be a problem. We've made it easy, here is a checklist to make sure you touch on all the important things.
*  Your home page is the most important page when it comes to telling the Google search engine what you do. It is also the page most likely to show up first in the search engines. You may not have time to go through the Meta Titles for your whole site, but at least go and take a look at your homepage Meta Title. Make sure it has the important search phrases towards the front, is unique, is close to 70 characters.
*  Next look at your homepage Meta Description. Remember this shows up as the summary on the Google search page, so write it as if you are directly making an offer to a client. Mention your location, your service or products, and how you would love to help them find what they need.
*  Check the headings on your homepage in particular. Are your search phrases appearing in headings across your site?
*  Take a look at your homepage and make sure there is a clear call to action. Do you tell the visitor how to learn more (draw them into the site) or how to contact you?
*  Glance over contact pages and staff profiles. Remove anyone that has left, including their email address if it appears anywhere. If you have time, add the new people.
*  If you make use of galleries, upload a few new images. If you can, add a whole new exciting gallery on a new product or category.
*  Add a few new images across the site. Some cool stock images or something snapped on your iPhone, either way new images freshen things up. Don't forget to complete the Alt Text field for Google image searches!
*  This list wouldn't be complete without reinforcing how important it is to be adding new content on a regular basis for Google to stay interested and keep ranking you nice and high. After all content is king.