Cropping images to a certain ratio is not the most intuitive thing to do. It is something you need to understand by doing, so follow these steps carefully a few times and hopefully it will become second nature!
These instructions are for taking an image and cropping it to fit a specific retangle size/ratio. For instance you might want a batch of images to all end up with equal height thumbnails…
If you don't have some fancy/expensive graphic design program – here is the manual way using the free FastStone Image Viewer (download here) (check out our FastStone review in this blog).
This example is to crop the image to fit into a 300 x 450 thumbnail.
Open FastStone Image Viewer
Through the folder/file listing browse to the images you want to work with.
Click on the image you want to work with, a blue line will appear around it.
On the tool bar click on the resize button.
In our example, set the height to 450 pixels. IF this makes the width LESS than 300px, set the width to 300px instead (the height will be greater than 450px). Then press OK.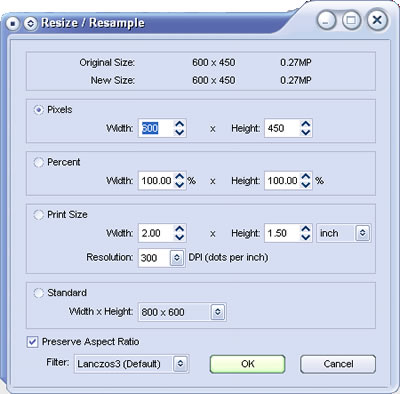 On the tool bar click on the crop tool. This opens the image in a window.
Drag the cursor to select the cropping area. Watch the width and height dimensions change in the footer, keep going until they read 300 x 450. You can then move this crop area around on the image to select where it will crop. Then press Crop.
The image is now cropped to 300 x 450. Select File->Save As or click on the save button on the tool bar.
Save the new version of the image with a file name like andrew_300x450.jpg so it can be recognised.
Really there is a little trial and error in this until it makes sense. Just remember not to save over the original file and you can always start again!