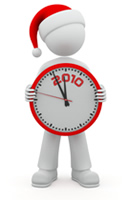 Just weeks to Christmas!
Beat the Christmas Eve mad panic to let customers and suppliers know your Christmas hours!
1 Create a Christmas Hours page on your website and enter the details in there now.
2 Mark in your calendar to email everyone in a couple of weeks with a link to your Christmas details. It won't hurt to get clients looking at your website either!